---
Deactivated MG 53 and the rare WW2 MG42:
---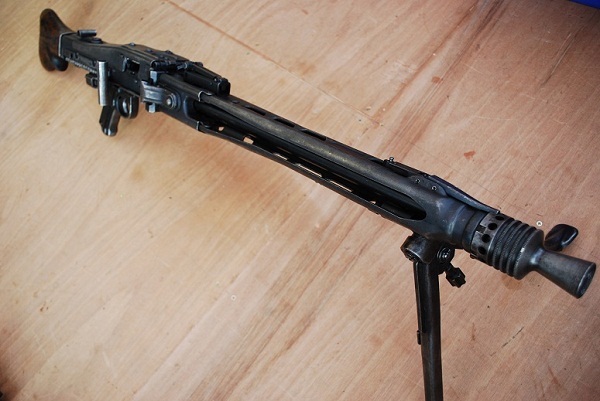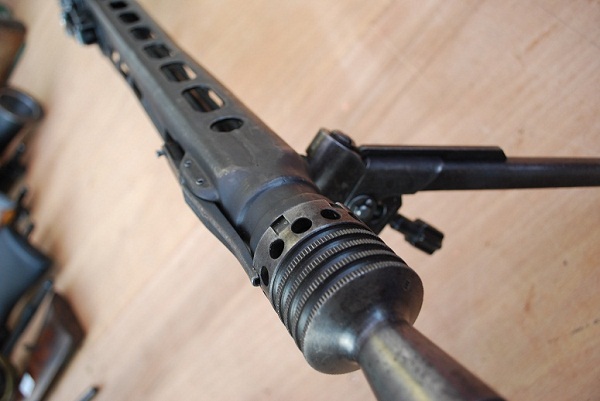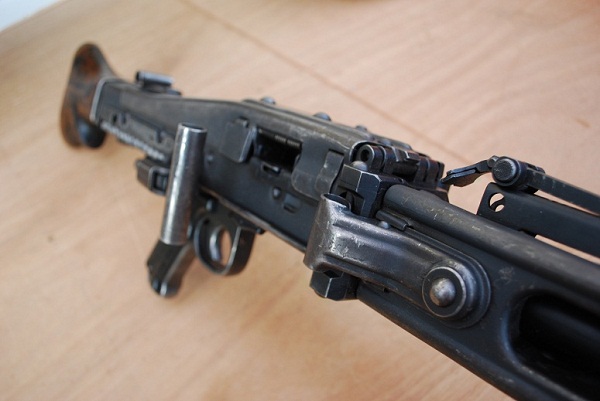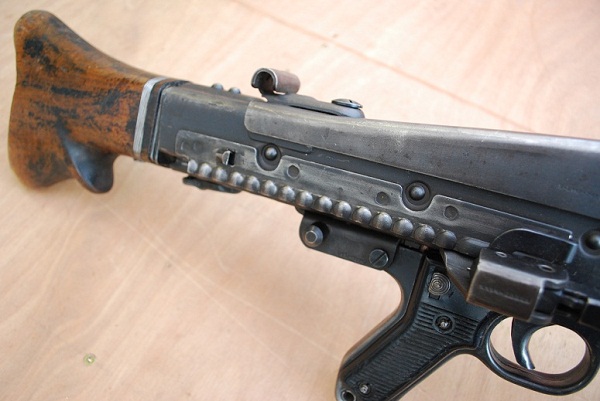 OK, the earlier MG34 had the class and style, but man it was overly complex to produce, so when war hit, it made sense to redesign some of the trickier to produce parts and simplify the process. Released in 1942, the MG42 went a bit further, with an increased rate of fire over the 34, but over heating barrels would dog the 42 for the rest of the war - always at least a 2 man crew neaded to keep it going, however, it was probably the most formidable light machine gun of WW2 (apart form the 50 cal of course....). Post war, ener the `53. The MG 53 has a proven record of reliability, durability, simplicity, and ease of operation, but is most notable for being able to produce a stunning volume of suppressive fire. The MG 53 has one of the highest average rates of fire of any single-barrelled man-portable machine gun, between 1,200 and 1,500 rpm. Pay attention to the news coverage and you see stacks of these still in use in the Middle East!
Deactivated MG53 and 42 - a truly awesome performer....
Please check out the following examples:
---
Deactivated post war MG42/53:
---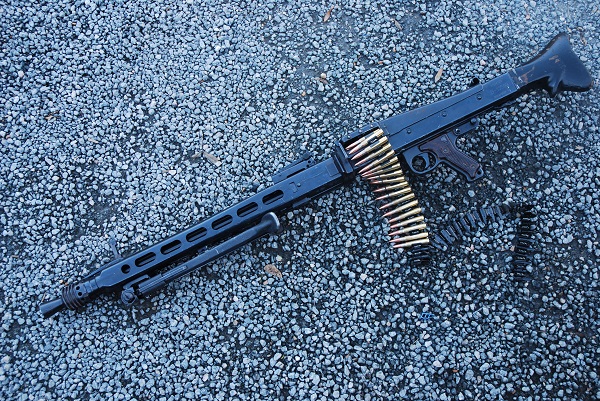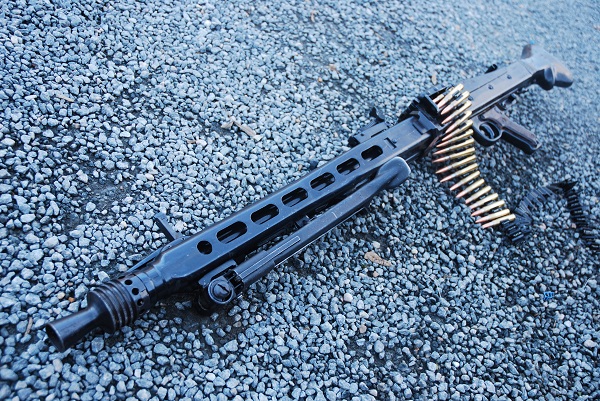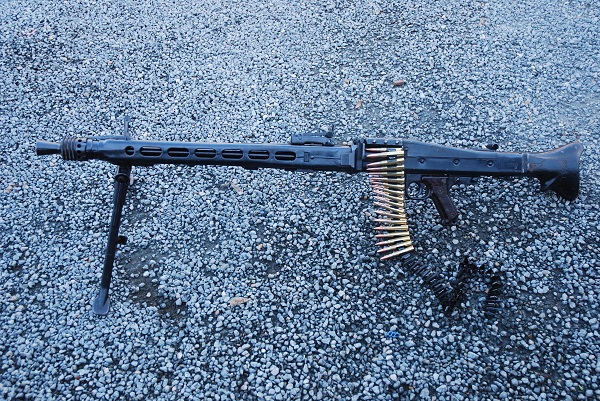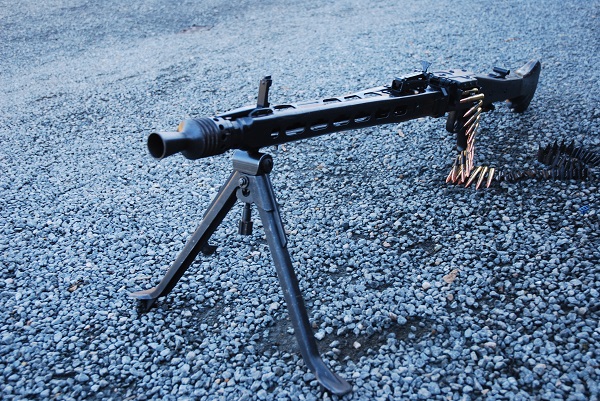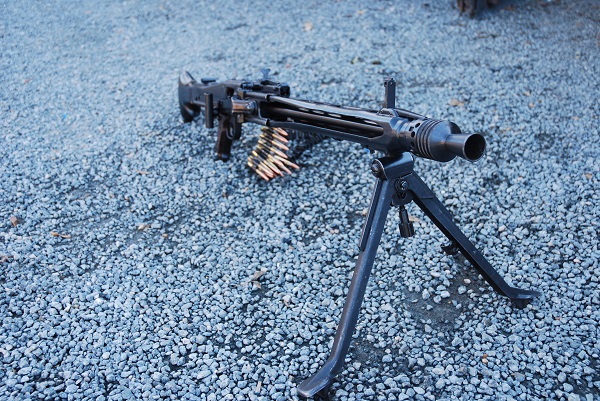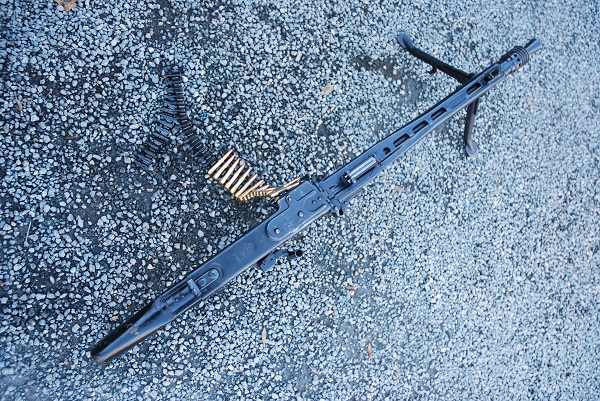 Deactivated MG53, wood butt stock with bakelite grips, condition is excellent plus comes with a belt of 20 inerts - latest EU spec so the rear section of bolt moves ynder full spring pressure but does not cock, latest deactivation certificate:
Deactivated MG53 complete with belt of inerts:
***WAS £995, NOW £925***
In Stock

---
Deactivated post war MG42/53, cocks and dry fires plus loads of kit:
---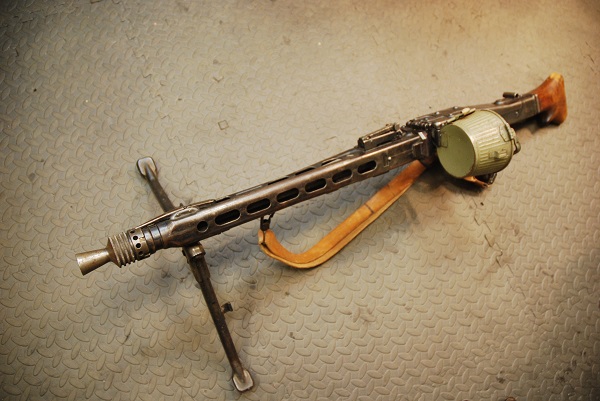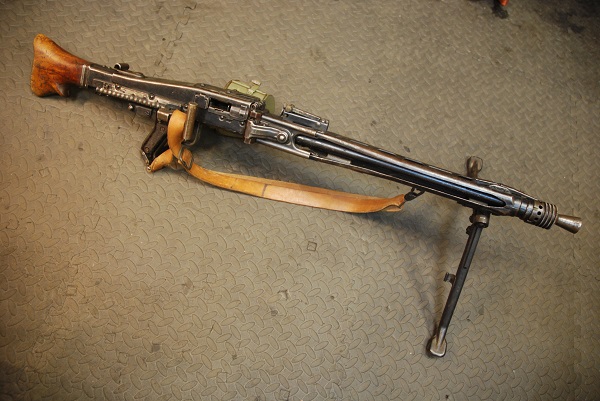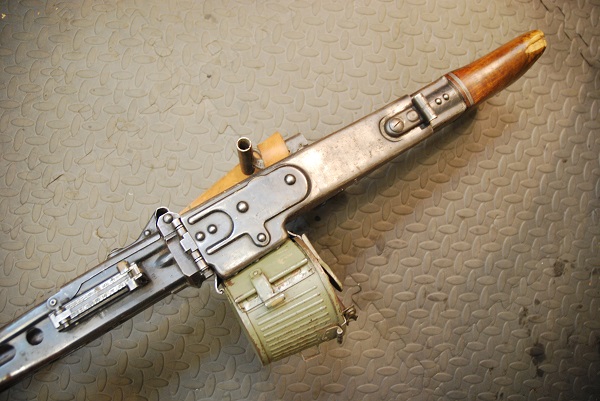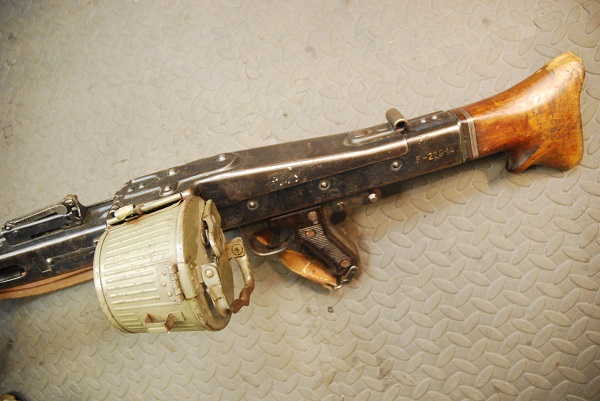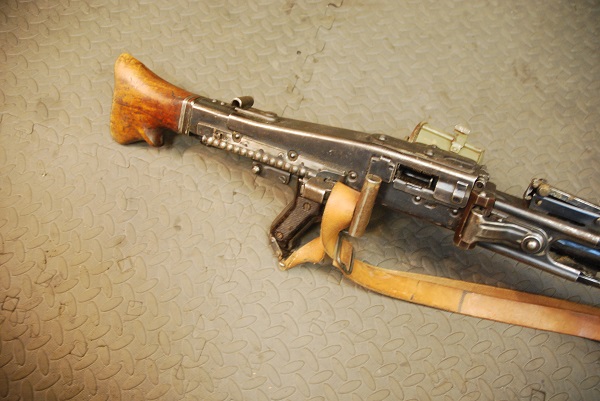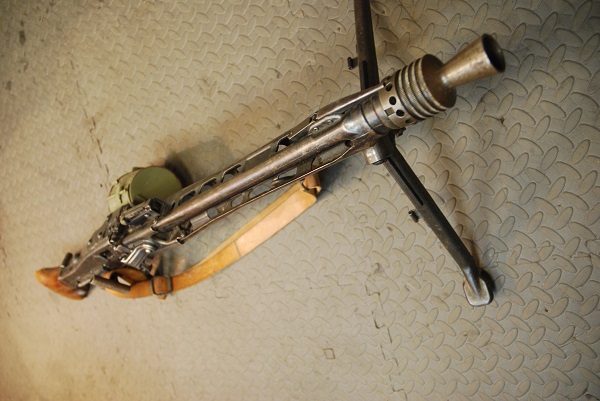 Early post war MG53 machine gun, cocks and dry fires and loads of kit:
Hears a great looking MG53, the finish is well worn and it has a great wood stock matched with bakelite grips - looks very WW2. Strips, cocks and dry fires and comes with leather sling, drum mag and belted inerts plus comes with correct deactivation certificate:
Deactivated MG53 with kit, cocks and dry fires:
£1295
***GONE***

---
German WW2 MG42 dug up machine gun:
---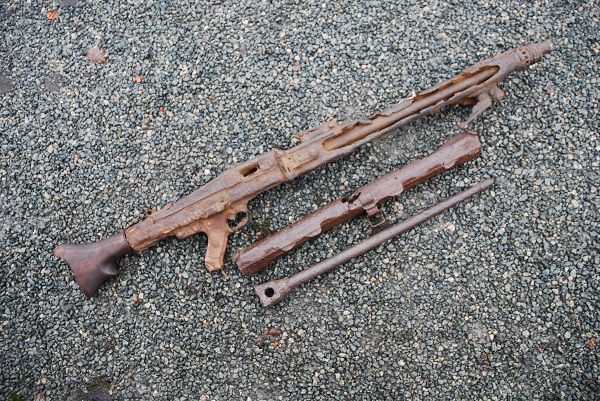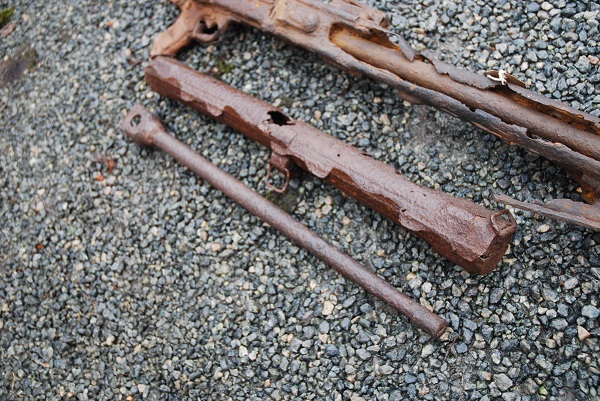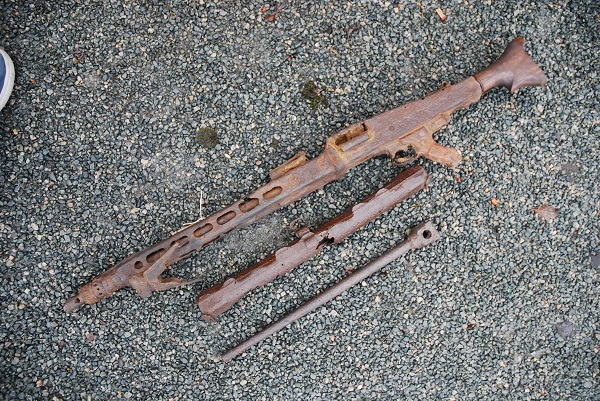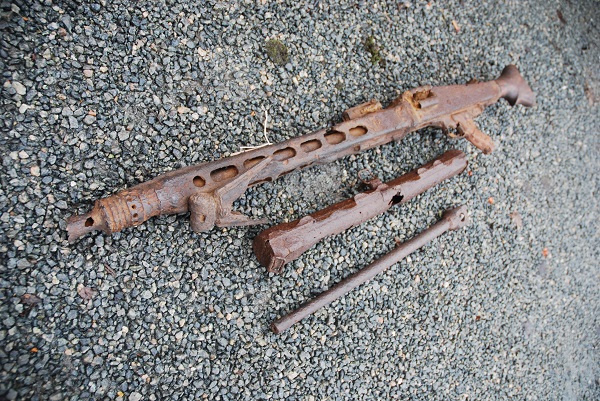 WW2 German MG42 machine gun dug up relic:
Just love the German MG42, a serious piece of fast firing design. This one went down fighting in the 1944 Courland Battle on the Russian front -. Condition is ok for a relic, its lost its bipod and we have fitted a replacement wooden butt plus it comes with a spare relic barrel and barrel case (rather fragile), Mind you, excellent value compared to a deactivated MG42 and you know the battlegroup who used it and lost it in action...
WW2 German MG42 - historic example that went down fighting - a great addition to any collection:
£1195
***GONE***

Shipping is for UK mainland - for Europe
please contact us by clicking
for further details or questions about this item
Please contact us by clicking
or call
07935 067654
.
---
WW2 MG42 Nato conversion ***Super Rare SS model***
---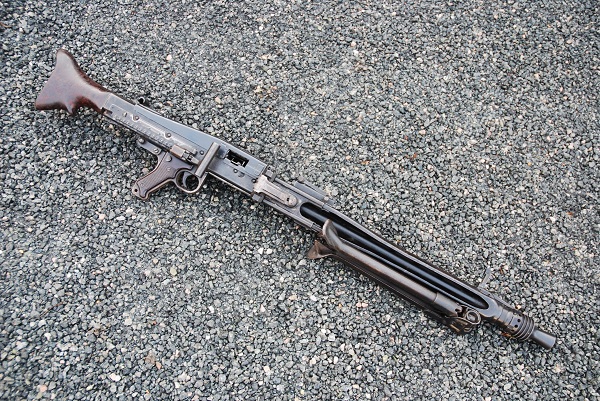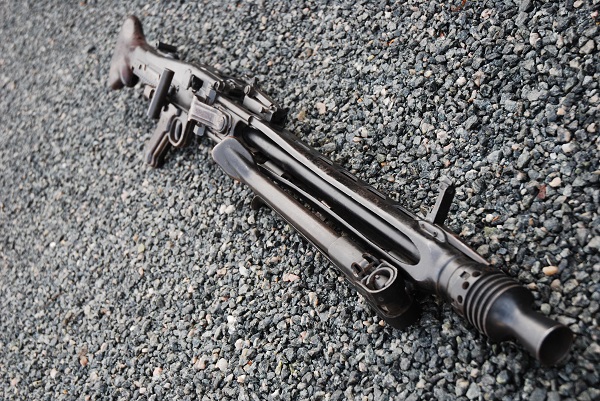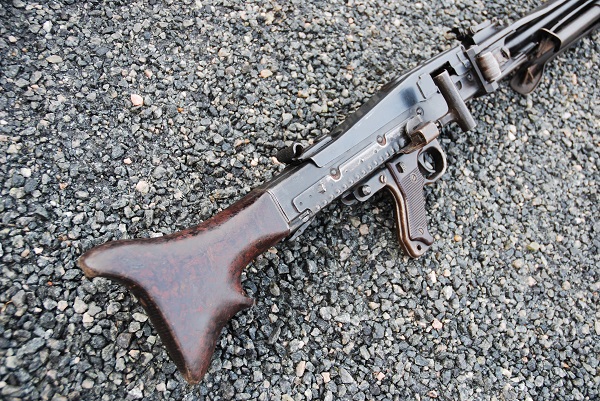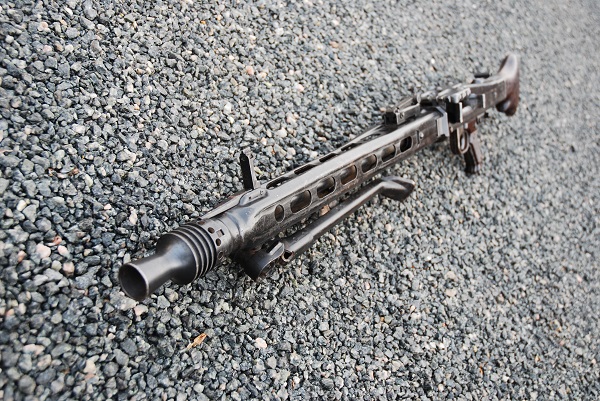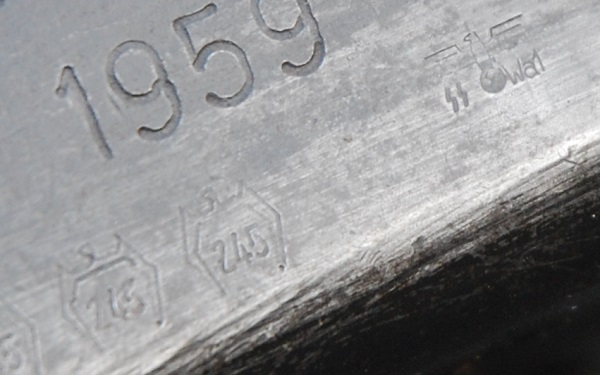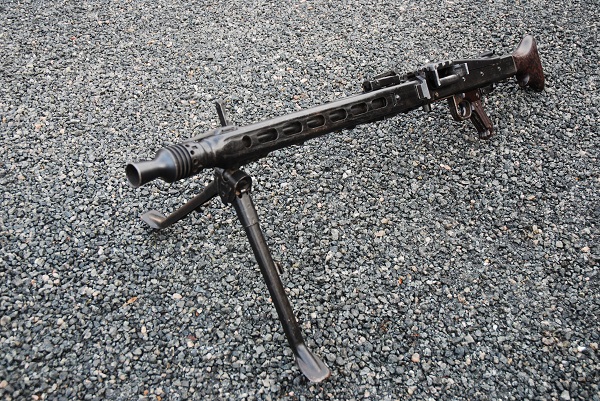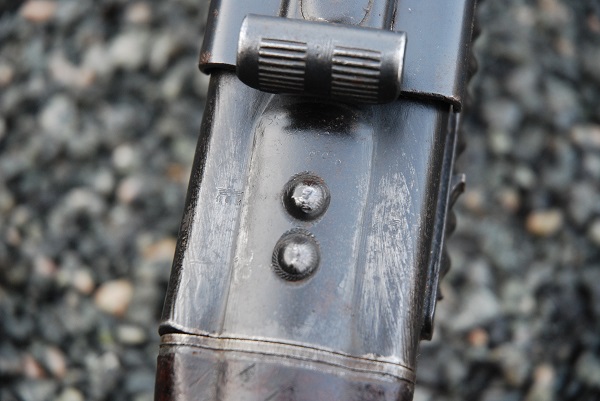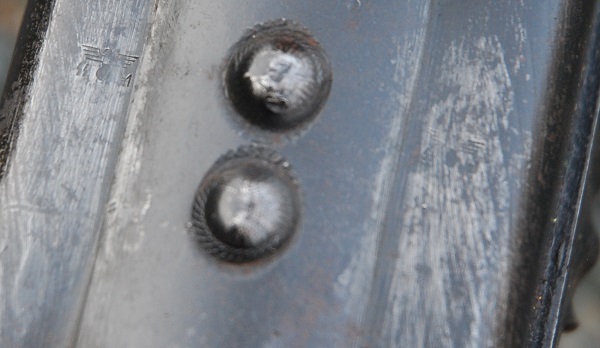 Mmmmm... we`ve never been big on SS stuff here ar real-gun.com but we do recognise a genuinly important piece of history when one comes along, and this is one of those times. Here we have a super rare WW2 MG42 with some small but very important marks - tiny "SS" marks alongside the waffenampt stamps - now these are way, way too small to have been faked, so this one has a more than macabre history. Sadly post war its been through a Nato converion to 7.62 (would be worth twice as much if in original 7.92) and some of the waffen stamps have been lost, but several remain on the gun including 3 on the body with the "SS" markings, it has also retained its rather nice MG42 bakelite butt and matching grips - strips, cocks and dry fires and comes with correct UK deactivation certificate:
Deactivated WW2 SS marked MG42 - super rare, only one we`ve ever seen:
***WAS £2675, NOW £1999***
***SOLD***

Shipping is for UK mainland - for Europe
please contact us by clicking
for further details or questions about this item
Please contact us by clicking
or call
07935 067654
.
---
All our Prices include VAT at 20% where required - but please note that deactivated guns are technically second hand items so VAT is not applied.
Our Cart uses Romancart Checkout - it has a high level of security built in to protect both, the user, and us, the recipient - please be careful to input your correct card registered address or it will reject every time.
We also accept cheque and bank transfers.

Online security is a must for any transaction - if you want to use Paypal then please give us a call on 07935 067654 or use the contact us button and we`ll get a Paypal Payment Request over to you - that way you can be sure your details will be safe and secure with the worlds biggest online provider - take no chances!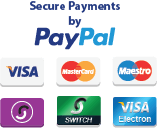 ---
Terms & Conditions
Here at real-gun.com we try to get things right first time - but, being a bit crap sometimes, we do screw things up - if in any doubt please contact us - if we get a price wrong or are out of stock we will contact you immediately - many thanks.
---
Please note - all our items will require an authorised signature on delivery.
We list details of our current stock by batch - due to our high turnover of the most popular models - so the images and descriptions fit that model, though there may be slight variations in stock grain/colour and metal condition - please bare in mind that some of the de-ac guns are almost 100 years old!
---
Deactivated Guns and the law:
Real-gun.com cannot sell deactivated guns to anyone under the age of 18. Though are not required to store this in a gun safe it is advised you store them in you dwelling, preferably in a locked cupboard. When transporting de-acs please keep them in out of site, preferably in a gun bag. Be sensible - don`t mount a .50 cal on the roof of your Jeep and take a drive - its fine on private land at shows but given the current climate please do not stress our Police any more than they currently are!
Looking to sell a Deactivated gun or a collection of de-acs? Please contact us by clicking here for a good deal!
---
Real-Gun.com - The deactivated gun you want at the price you NEED!