---
Bt Delta Elite Paintball Gun:
---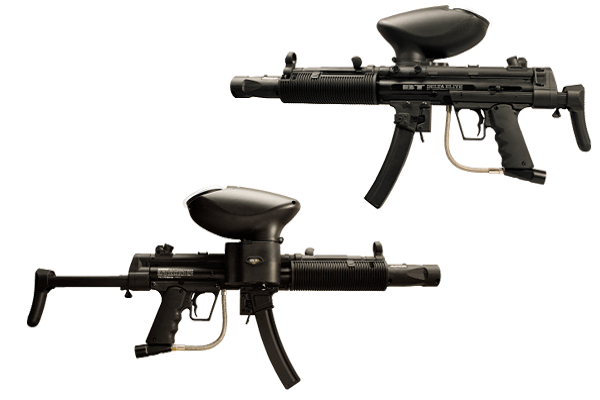 ---
Bt Delta Elite Paintball Gun:
OK, BT took a Delta then fitted it with an Apex barrel, Rip Clip hopper Kit and Electronic trigger - then calling it an Elite. If you are looking at putting any of these upgrades onto a Delta then don`t mess around and let the factory do and get it cheaper than in component prices - for real-gun.com we like the clean lines of the Delta - just a personal thing!
Here`s the tech stuff you probably need to look at.... Battle Tested Paintball strives to create markers with real-world look and feel. The Delta Elite paintball gun design is based on the world`s pre-eminent submachine gun and is the choice of many players who desire authenticity. While it looks like it`s straight off the battlefield, it has some advanced features that make it an awesome paintball marker. Manage the number of paintballs you can shoot with the Electronic Grip Frame, offering multiple firing modes, such as semi-auto and adjustable ramping.
The Rip Clip force feeds paintballs using sound activated HALO technology and when paired with the double trigger E-Grip, puts more paint in the air than your opponent can duck. The Apex Barrel can create custom shot trajectories, specifying left or right hooks, drop shots and even extended range.
BT Delta features:
Lightweight, Balanced Construction
Impact-Resistant, Baked-On Coating
Adjustable Stock
Works with CO2 or Compressed Air
Apex Barrel
Multi-step trajectory control
Allows extended range (even in wooded areas)
Offers left hook, right hook or drop shot curves
Electronic Grip Frame
Double finger trigger
Semi-Auto, PSP ramping
Semi-Auto, PSP ramping
Rip Clip with HALO Technology
Sound-activated, force-feed loader
Offset to the Right for Sighting Down the Barrel
Built-in Rip Drive to advance balls and clear jams
Holds over 200 paintballs
Extended Product Title For Sale
£319.99
***Due to supply issues please contact us to order this item***
Shipping is for UK mainland - for Europe
please contact us by clicking
for further details or questions about this item
Please contact us by clicking
or call
07935 067654
.
---
All our Prices include VAT at 20% where required - but please note that deactivated guns are technically second hand items so VAT is not applied.
Our Cart uses Romancart Checkout - it has a high level of security built in to protect both, the user, and us, the recipient - please be careful to input your correct card registered address or it will reject every time.
We also accept cheque and bank transfers.

Online security is a must for any transaction - if you want to use Paypal then please give us a call on 07935 067654 or use the contact us button and we`ll get a Paypal Payment Request over to you - that way you can be sure your details will be safe and secure with the worlds biggest online provider - take no chances!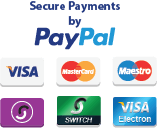 ---
Terms & Conditions
Here at real-gun.com we try to get things right first time - but, being a bit crap sometimes, we do screw things up - if in any doubt please contact us - if we get a price wrong or are out of stock we will contact you immediately - many thanks.
---
Please note - all our items will require an authorised signature on delivery.
We list details of our current stock by batch - due to our high turnover of the most popular models - so the images and descriptions fit that model, though there may be slight variations in stock grain/colour and metal condition - please bare in mind that some of the de-ac guns are almost 100 years old!
---
Deactivated Guns and the law:
Real-gun.com cannot sell deactivated guns to anyone under the age of 18. Though are not required to store this in a gun safe it is advised you store them in you dwelling, preferably in a locked cupboard. When transporting de-acs please keep them in out of site, preferably in a gun bag. Be sensible - don`t mount a .50 cal on the roof of your Jeep and take a drive - its fine on private land at shows but given the current climate please do not stress our Police any more than they currently are!
Looking to sell a Deactivated gun or a collection of de-acs? Please contact us by clicking here for a good deal!
---
Real-Gun.com - The deactivated gun you want at the price you NEED!